FDCPA Violations – All Your Need To Know About The Fair Debt Collections Practices Act
FDCPA Violations Service In A Nutshell
We show clients how to recognize, identify, and prove their FDCPA violations Case. Once we gather evidence we then properly assemble and deliver your case to a FDCPA Attorney for case development. If the case is won the client gets $500. There are no upfront or out of pocket expenses for our service.
FDCPA Violations Video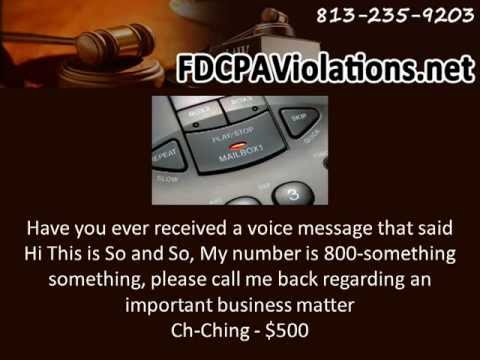 What is the Fair Debt Collection Practices Act (FDCPA)?
The Fair Debt Collection Practices Act, commonly known as the FDCPA, is a Federal law that regulates the actions of debt collectors and protects consumers against illegal and abusive debt collection practices. The purpose of the FDCPA is to eliminate abusive practices in the collection of consumer debts, to promote fair debt collection, and to provide consumers with an avenue for disputing and obtaining validation of debt information in order to ensure the information's accuracy.
[break][break]
FDCPA Violations, Are You a Victim?
To determine if you are a victim of FDCPA violations we must first understand the FDCPA – Fair Debt Collections Practices Act – FDCPA for short was enacted by Congress because there was abundant evidence of the use of abusive, deceptive and unfair debt collection practices by many debt collectors. They found that abusive debt collection practices contribute to the number of personal bankruptcies, marital instability, loss of jobs and invasion of individual privacy.
[break][break]
How to determine if you have a
FDCPA Violations

Case?

To determine if a collection agency has violated debt collection laws and engaged in illegal debt collection practices you must educate yourself on all the nuances of the law. What exactly is considered abusive, deceptive and unfair? We have created this website in an effort to provide you with all the information you need to determine if in fact you your rights have been violated.

[break][break]
What are some samples of FDCPA Violations?
There are literally dozens of ways debt collectors violate your rights. For your convenience we have created a library of the FDCPA violations as well as some detailed samples. All you have to do is compare your situation with these samples. If your situation is similar there is a good chance that your rights have been violated too.
[break][break]
How are you compensated for FDCPA Violations?
The FDCPA states that when your rights are violated by collection agencies they must pay you $1,000 in statutory damages. They must also pay all of your attorney's fees. Awards above these statutory damages are sometimes given for larger violations.
[break][break]
How do you gather evidence of FDCPA Violations?
Evidence of the violations must be present in order to win your case. this evidence can come in the form of a recording (eg. voicemail, recorded conversation) in writing (eg. collection letter, personal documentation) or in other ways (eg. witnesses, phone records, etc)
[break][break]
How do you present your case to an attorney specializing in FDCPA Violations?
Although many FDCPA Violations cases are fairly basic, the evidence needed to substantiate these cases are almost exclusively developed by the client, if the evidence is not properly developed attorney's will generally decline a case. Attorney's fees and costs in these types of cases are only paid on a contingency basis (meaning only if the client wins). The reason for this is due to the fact that the average consumer stands to gain very little by winning ($1,000 statutory damages) and in most cases do not see the worth in risking a loss if they paid attorneys fees upfront.
[break][break]
Since the attorney is taking the FDCPA Violations case on a contingency basis it stands to reason why they would prefer to only take cases that are just about ready to go.
[break][break]
We are here to help you protect yourself from FDCPA Violations!
Our goal is to guide our clients through the following steps and deliver your fully assembled case to our Attorney who specializes in FDCPA Violations
[break][break]
Recognition – Learn how to recognize common and not so common FDCPA violations
Identify – Discover what violations may apply in your case
Maneuver – Learn how to take a proactive approach to developing evidence, No need to wait for collectors to strike
Substantiate – Gather, develop, preserve and protect evidence
Validate – Review and deliver evidence to attorney for final review and acceptance
As a special bonus we will also work with our clients on FCRA (Fair Credit Reporting Act) violations.
[break][break]
FDCPA Violations are determined by interpretation of the laws found in the Fair Debt Collections Practices Act. The entire text can be reviewed by clicking on this sentence.